So Many Reasons to Love Goodland Florida!
Posted: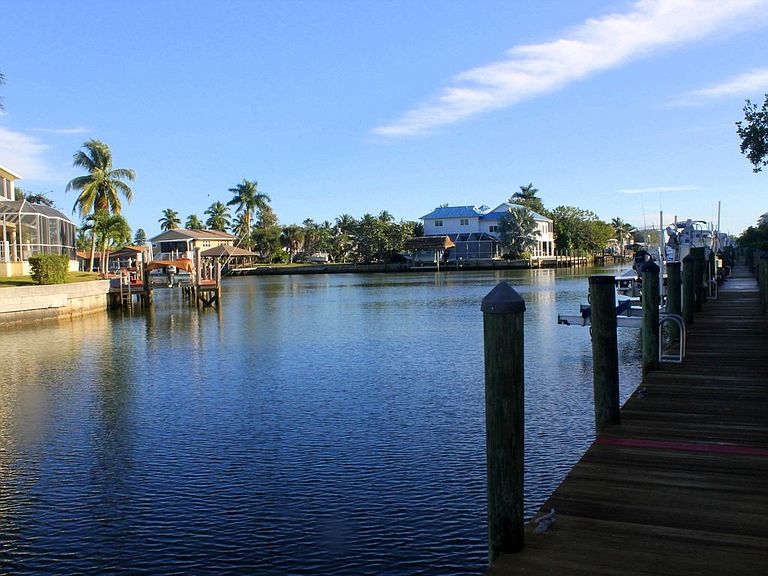 Everyone loves Goodland, Florida…
Bursting with Olde Florida charm, and gorgeous natural beauty, this quaint seaside village, with its friendly relaxed residents…yes, Goodland Florida, is sure to capture your imagination too!
If you haven't yet been to Goodland, Florida, it's a unique village, nestled in the mangroves of a tropical Florida island. Goodland is surrounded by picturesque waterfront areas, much like Key West in the old days. You'll immediately notice a hint of nostalgia, in this charming little place, where you can walk anywhere. Your evenings will be spent visiting neighbors, dining at phenomenal restaurants, heading out to fish, (or fishing in your own backyard!) Yet, you're still just a stone's throw away from all the 'suburban life' amenities that one would expect, literally right around the corner, from Marco Island.
Small town life:
Picture a place where kids still play outside til dark, go boating and fishing together, and can walk everywhere in town. Neighbors get around on golf carts, and you'll see them meeting up for happy hour and cards in the evening, too, sharing the mangoes from the tree in their yard. On Sundays, everyone enjoys live music and walking to local venues, for good times with neighbors and visitors from around the globe.
Great Seafood:
For the foodie in the family, or the live music lover, there are some fabulous walk-to places ij Goodland. You can buy fresh seafood, have lunch, or dinner out, or have a cocktail and enjoy the best talent in local live music. Here are the local favorites: Paradise Found,  Stan's,  Little Bar,  Kirk's Seafood,  Marker 8.5, and The Crabby Lady.
Boating, Fishing + wide water views:
Bring your boat with you, as you embark in your new life in Goodland. Yes, Goodland, Florida boasts many amazing and affordable boating options. Most homes and condos in Goodland have their own boat dock. There are marinas, boat ramps, and boat/bait shops for all your boating and fishing needs as well. Goodland has easy open access to the Gulf from both sides of town. Just decide where you want to go and head out! Fishing in Goodland is an open secret, it's great!  Grab your fishing rod and head to a dock, a creekfront, a boat landing or hop on a fishing charter for the day. If you love great fishing, Goodland is the place for you. Another plus: nearly every place in Goodland has a spectacular wide water view!
 Unique homes & properties:
Most of the homes in Goodland, Florida are on the water with fabulous waterfront views. Best of all, there's a home in every price point for those wishing to live in Goodland.
Looking for a low-maintenance home with a great view — and your own boat dock?  This beautiful condo in Calusa Island Village, was built in 2005, and has just been renovated. It has new storm code windows and doors, new exterior, and new garage door. Inside, the kitchen has modern granite counters, sleek tile, and plenty of natural Florida sunlight. It even comes fully furnished with Tommy Bahama furniture.  This 2 bedroom 2 bath 2nd floor condo has something for everyone, including room for a hobby workshop, or a boat, in the huge double-depth garage on the ground level. The large balcony out back overlooks lovely Calusa Bay. Have your breakfast, lunch, or dinner overlooking the water every day!
Amenities with this unit include a heated pool and hot spa to make relaxing in your new surroundings even better. Your Calusa Village condo also includes a private boat lift and dock! Larger boat? No problem, right around the corner is the Calusa Island Marina. Need a great investment?  This unit is super-easy to rent, too, if you're looking for income while you're away.
Want to know more?
If you want to know more about this beautiful condo home, and others that may be comparable here on Marco Island, reach out to the listing agent, Paul Tateo or Dawn Snyder.  The knowledgeable team at Horizons Real Estate, is here to educate you about all the residential options we have to offer here in paradise.
Our real estate experts at Horizons Real Estate team can guide you in finding your new home in paradise.  This team will take the time to share this home, its special features, and many others with you, as well.
Related Links:
Here are similar listings in the Marco Island area.
Looking to build on Marco Island?: Lots Available on Marco Island
Homes search here: Search MLS Listings